Our Activities
Annual Creek Cleanup
Arundo Removal
Fish Sampling
How to Volunteer
Creeks Master Plan
Creek History
Maps
Wildlife in the Creeks
Otters and Beavers
Creek Science
Water Quality
Bioassessment
BMI Lifestyles
Creek Structure
Native Walnuts
About FOC
About Us
Join Us
Contact
Saturday May 13
9:00am-Noon


Join us for the 28th Annual Creek Cleanup on Saturday, May 13 in downtown Walnut Creek.

Continental breakfast at 8:45. Registration check-in at 9:00.

Advance registration is now required and attendance is limited. If you register and later find you can't come, please cancel your reservation so someone else can use it.

ALL PARTICIPANTS must have a waiver form. Click here to download a form and get more details about the cleanup.

Photos of the 2016 creek cleanup are available here.

Creek Restoration Project Continues in Civic Park April 8

For our Saturday, April 8 workday, we'll care for our new plants and start clearing next year's restoration area. No experience is required -- just a desire to make the creek a better place for both humans and wildlife. Join us for some rewarding work, camaraderie, and a brief talk about an aspect of the work we're doing.



For more information about workdays
To sign up, contact us.
Restoration schedule
Photos of past restoration days


Creek Cleanup for the Salmon Was a Success

Since salmon need clean water both to live in and reproduce, we cleaned up an area of Walnut Creek where salmon usually come to spawn. Because of the homeless camps nearby, there were a lot of large objects like grocery carts, old clothing, and luggage, along with a lot of cigarette butts and fragments of packaging. We didn't see a single plastic bag, however. We were not able to remove all the trash, but it's a lot cleaner than it was and we'll return next year.



********************************************



Upcoming Events
Restoration workday: Sat Apr 8 from 9:00am-noon
Restoration days monthly on the 2nd Saturday
2017 Annual Creek Cleanup: Sat May 13, 8:45am
To sign up, contact us.
Community Service Day, Sat Oct 14, 8:45am
********************************************

Community Service Day Projects

Friends of the Creeks sponsored two projects on Community Service Day this year -- a cleanup on Pine Creek, and for the more restoration minded, ivy removal in San Ramon Creek near Creekside Drive downtown. The Flood Control District sponsored a second Pine Creek cleanup.
Investigating Fish Habitat
As part of our ongoing project to learn more about the fish in our creeks -- both what species we have and where they live -- we asked Gretchen Hayes, a geomorphologist, to teach us how to do pebble counts. This is a technique for assessing the quality of gravel beds for suitability as redds (the nests salmon build to lay their eggs). After locating a promising spot, we laid out a grid, took a sample pebble from each intersection, and measured and recorded it to get a histogram of gravel sizes.


Other Recent Activities
Sandbagging:

As an experiment, we used sandbags to divert all the flow of San Ramon Creek from the bypass into the natural channel during the dry season to see whether it made a difference in the water temperature. There wasn't enough extra water to make a difference, but we'll try again early next summer when there is more water (and more baby fish).



Arundo Removal:

A group removed arundo from a stretch of creek bank below the Creekwalk in Civic Park East on August 14. A second group worked on Las Trampas Creek in September. Slowly but surely, we are making progress against this invasive weed.



Volunteers picking up trash at the 2016 cleanup


Volunteers pause after planting pipevines to feed pipevine swallowtail butterflies.
Volunteers cleaned up the creek for the salmon on October 29.


Ivy removal volunteers in San Ramon Creek on Community Service Day 2016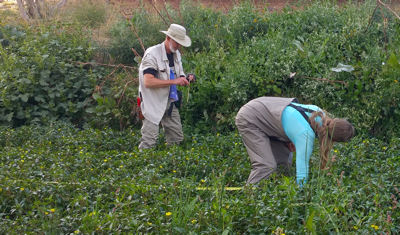 The volunteer on the left is measuring a pebble, while the one on the right is reaching into the water to select one.





Placing sandbags in the bypass channel to divert the flow into the natural channel, August 2016


Volunteers cutting arundo below the Creekwalk