Our Activities
Annual Creek Cleanup
Arundo Removal
Fish Sampling
How to Volunteer
Creeks Master Plan
Creek History
Maps
Wildlife in the Creeks
Creek Science
Water Quality
Bioassessment
BMI Lifestyles
Creek Structure
About FOC
About Us
Join Us
Contact Us
Native Walnut Tree Fundraiser Is Successful

Friends of the Creeks and the Northern California Black Walnut Partnership have successfully raised the $10,000 required to collect samples of candidate black walnut trees for genetic testing. Our deepest gratitude to our 54 donors. Heath Bartosh, local rare plant botanist, has collected the samples and delivered them to UC Davis for testing. Results will be available in the fall. Here are some details:

We were able to take 66 samples, 10% more than the 60 we had planned. Half of them came from the historical core area – 25 from Walnut Creek and 10 from Las Trampas. Another 15 were scattered along the Marsh Creek watershed. Seven more were located in the Alhambra-Carquinez area and five around El Sobrante. Finally, we heard about a grove of old trees at Sunol. We sampled one that had been partially cored by a dendrochronologist who estimated it had germinated about 1860. A few statistics:
Tallest tree: El Sobrante, 73 feet
Largest diameter: Carquinez, 76.7 inches
Widest crown: Sunol, 87 feet; Carquinez, 84

Genetically pure trees will be propagated and used in creek restoration projects in Contra Costa and Alameda Counties.
Read more . . .
See a slideshow about the overall project including maps.


Upcoming Events

Propagation Workday: Saturday August 8
Corporate Caring Week: September 21-26
Community Service Day: Saturday Oct 10
2016 Annual Creek Cleanup: Saturday May 14
Others: Restoration days monthly through the winter


To sign up, contact us.

Recent Activities

Caring for Our Creeks:

This March evening event sponsored by the Walnut Creek Watershed Council informed the public about what's going on in our watershed and how they can participate by joining a volunteer creek group like ours.



Creek Channel Restoration: On Saturday, January 31, we began restoration of the creek channel itself at Civic Park, bringing back native plants that have been crowded out by weeds. This is a pilot project to see whether we put the plants in places where they can prosper.


Annual Creek Cleanup


Thank you to the 160 people who helped to clean up the downtown creeks on May 9.


We are pleased to report that the volume of trash declined by about 50%, largely as a result of the plastic bag ordinance that went into effect last fall.


In addition to removing trash from the creeks, we also weeded along the Creekwalk and did maintenance in the pollinator habitat.


Photos of the 2015 creek cleanup are available here.


Otters Are at Home Here

From a low point perhaps fifty years ago, otters have been slowly staging a comeback in Contra Costa County. They have gradually recolonized many of our creeks, learning to cope with flood control structures and other unnatural objects as they get around. They can walk cross country to move from one creek to another. They have visited Heather Farm Park in Walnut Creek for many years, but recently they have been staying longer, there are more of them, and there has been breeding activity. Otters range as far south as Danville now and can be seen in Walnut Creek at Civic Park and in Las Trampas Creek. Much of this renaissance is due to cleaner water. For otters to flourish, they need two things from humans: high quality water and protected wildlife corridors so they can move around.



The Creek Walk Is Expanded
The first section of the Creek Walk included interpretive panels, picnic tables, realignment of the trail farther away from the creek, a new pedestrian-only trail, and replanting of the project area with plants native to the Walnut Creek vicinity. It was opened to the public in May, 2011.
During the summer, the plants filled out and flowered, providing food for pollinators. Where the native grass seed was allowed to fall, there are new seedlings around the parent plants, as intended. To the east of the planted area, City staff pruned up the trees and removed underbrush to give the area a more open feeling. As a result of all the improvements, the public is making greater use of the area.
On the first Community Service Day in October 2011, the Gardens at Heather Farm and Friends of the Creeks volunteers combined to plant an IPM demonstration garden under the oaks at the east end of the Creek Walk. (IPM stands for Integrated Pest Management, which is a set of techniques for managing a garden with little or no use of pesticides.) The new garden showcases a selection of native and horticultural plants suitable for growing under oaks as an inspiration to home gardeners to make the most of the native oaks that may be in their yards.
More expansion: In the fall of 2014, in cooperation with a group of Civic Park volunteers, we began work on rehabilitating the butterfly habitat at the east end of the Creekwalk. We are expanding our theme to include other pollinators, particularly native bees, and have renamed the area as "pollinator habitat." The new layout has been decided and we are working on mulching the new walkways.
During the winter, staff laid the backbone of a new irrigation system. Then volunteers put in the first new plants -- several flowering species for the pollinators and native grasses that not only feed many species of butterflies but will also deliniate the garden walkways. In addition, we provided ADA access.


Botanist Heath Bartosh standing at the base of the giant walnut on Carquinez Strait. This and the Sunol tree appear to be the largest and oldest trees in our sample and therefore the best candidates to be genetically pure.
Volunteer preparing to plant a common monkey flower
Volunteers from Crew 6 cleaned up San Ramon Creek close to Las Lomas High School.


Otter eating a freshly-caught trout in the front pond at Heather Farm Park in Walnut Creek. Two recently installed floating islands have created habitat and improved water quality.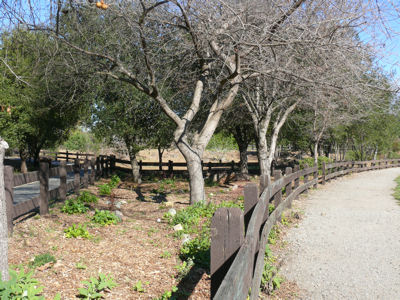 The new Oak Woodland IPM garden as it appeared in March, 2012. It is planted with species suitable for growing under native oaks. There is an informal seating area in the middle.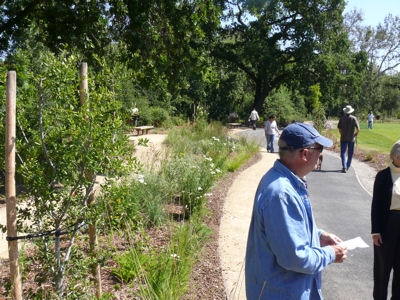 People explore the Creek Walk after the dedication ceremony.